LDG Group invest in Formes Alutek
Aug 5, 2013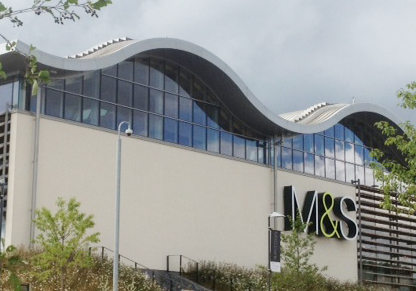 LDG Group Ltd, one of the North West's largest window companies, has just completed the purchase of Formes Alutek. Formes Alutek Limited was privately owned and was originally formed in 1978, is a multi-systems fabricator and provides a complete supply, fix and glaze package for Aluminium Curtain Walling, Windows & Doors to the Construction and associated Industries.
Specialising in curved aluminium to both the Trade and Architects/Councils and other major Construction clients nationwide. Formes Alutek has completed and been involved with many prestigious projects, including the M&S retail store at Cheshire Oaks, Manchester Airports Terminal 2, Royal Preston Hospital and Great Ormond Street Hospital in London.
The purchase of Formes Alutek has significant benefits for both customers of the LDG Group and Formes Alutek alike. Formes Alutek has a fully operational manufacturing facility with over 20 years specialist experience of bending aluminium which will be a service of great interest to LDG clients. LDG, on the other hand, has an in-house powder coating plant and glass manufacturing facility, which will complement the fabrication services for Alutek. Together the two companies will be able to exploit existing and new market opportunities, make better use of existing supply chains, negotiate better business terms, provide enhanced customer service and continue to offer outstanding value for money.
The LDG group has been established for over 30 years and has built up an impressive portfolio specialising in the retail market through Lancashire Double Glazing, whilst LDG Contracts specialises in the commercial sector, completing numerous outstanding installations at many of Lancashire's and beyond, Iconic buildings.  The Groups portfolio has developed and gown over the last 30 years to include its own Glass manufacturing plant in Lancaster, CCG Glass, its own Solar Division in Preston, LDG Solar, its own Powder Coating Plant LDG Coatings with it wn pressing/bracket welding division . The LDG group has a turnover of £15m and has built and installed more than 2 million frames since 1986, the purchase of Formes Alutek is likely to significantly increase the group's annual turnover and open up new market opportunities for the group, hopefully safeguarding many jobs in this volatile market.
The group are market leaders in the design, fabrication and installation of aluminium and PVCu products including curtain walling, window systems, entrance systems, shop fronts, patent glazing and solar panels, and now aluminium bending.  LDG employ over 200 staff and has its own 100,000 sq. ft. manufacturing facility all on one site in Preston alongside the Head Office. Bill Forsyth & Vivienne Brunskill, Joint Managing Directors said "we are always looking for opportunities to expand the group and to offer new products to our customers that in turn provide them with real benefits. Alutek fits our acquisition profile perfectly giving us access to new markets whilst providing new specialist services to our existing customers, as well as increasing job opportunities throughout all our businesses.  This is really exciting times for the group and unlikely to be the last acquisition the group makes"